Love Struck with the Shermans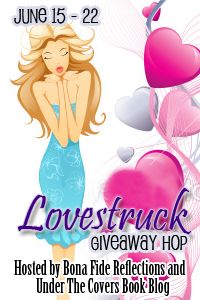 I wanted to introduce you to my favorite hero. And he is truly LOVESTRUCK with his heroine Haven.
Tony might be a playboy and too handsome for his own good but when Rubenesque single mother Haven crosses his path life as he knows it changes forever.
Sit back relax and get to know Tony Sherman
Thank you for coming to chat with us today. Why do you think Dominique Eastwick choose you to represent her?
I don't think it was choose as much as I was the only one she didn't have to drag kicking and screaming in to chat. Hunter was supposed to be here too but the bastard pleaded a head cold… Likely story.
Tell us a little about yourself?
Do I have to talk about myself? It's really my least favorite topic. Okay I am the third Sherman sibling. You want more than that? I have a degree in Advertising and I have recently found I really am attracted to strong women with seductive curves.
Where do you live?
At the moment we are living in my apartment in Beacon Hill but we are looking for somewhere maybe on the North Shore of Boston.
What do you wish people would know about you?
I am
not
just a pretty boy.
What music do you listen too?
Jimmy Buffett, Jimmy Buffett and then some Jimmy Buffett.
Will we be seeing more of you or are you stepping out of the lime light?
Oh, I am sure I will have to be there when Dominique tells Spencer's tale; she isn't likely to let me out of that one. And then of course there is Lucas and Trenton's tales to be told. So doesn't look like I will be stepping out of the limelight any time soon. No matter how much I would like to, you are stuck with me.
Where have we seen you before?
Hunting JC
What is your perfect evening?
Any evening I spend with Haven. It doesn't matter if we are out on the town or just sitting on the sofa, its perfect.
Is there anything you wish Dominique Eastwick had kept their mouth shut about?
Where should I begin? But I am not likely to bad mouth Dominique when she still has three more stories to write am I? Do I look stupid? (leaning in he whispers) Have you seen what she does to people she doesn't like? Not pretty.
Okay in that light do you feel Dominique portrayed you fairly?
I am who I am, I can't change that.
Tell us about Haven, what drew you to her?
I know it's corny but everything draws me to her. She doesn't see me as the playboy she sees me for who I am, you can't imagine how refreshing that was. Besides have your seen the curves on her…wow.
What's you biggest turn ons?
Um…Haven
What are your biggest Turn offs?
Any PDA between Hunter and JC, and I think they do it on purpose to piss me off. (he shakes his head in disgust) The Bastard
What's your favorite sports team?
Go RED SOX
What's your favorite Ice cream flavor, Chocolate, Vanilla, or Strawberry?
I am really more of a Chocolate Cookie Dough man with Jimmies please. (He smiles his cheeky boyish grin)
What are Jimmies?
Those sprinkles you put on Ice Cream. I know what am I five? But they are good.
What is your biggest fear?
Losing my family. And yes that includes chump Spencer, but don't tell him I said that.
The Sherman Family series can be found at
Musa Publishing.
and
Amazon
Order of the Books
Hunting JC (Published)
Tony's Haven (Published)
Killing Lucas (WIP)
Spencer's Chance (WiP)
Taming Lucas (Hell I haven't even started)
CONTEST TIME
Win a ecopy of any on my Backlist books :)
Also you can be a character in my newest book Killing Lucas or if you are an author have Haven read YOUR book in my book.
All you have to do is the normal things. Follow me here
Leave me a comment and tell what you would prefer to be a character or have Haven read your book.