Dom's Sinful Siren Stop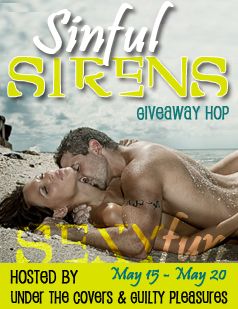 Welcome to My Stop on the Sinful Siren Blog hop.
I couldn't believe my luck when I had just finished my book about a Siren who is a repeat guest at the Wiccan Haus. Serena has some issues and only the siblings at the resort for spiritual healing can help. Unfortunately nothing is ever easy and Serena is stuck on the island with and ex lover, his new mate, 4 wiccan siblings, a card reading gypsy and Kaleb a rescue swimmer for the Coast Guard who is both the last thing she needs and the only thing she wants.
What if having sex with the man you love would in the end kill him. Yet the fates keep throwing you into his arms? And just what if that man is there the heal because his best friend was killed by a Mermaid?
Whats a poor Mermaid to do?
Siren's Serenade will be the 4th book in the Wiccan Haus series. A shared world series from Musa Publishing that takes place off the coast of Maine. Where paras and human heal side by side but the humans just don't know it.
Shifting Hearts by Dominique Eastwick is Now available
A Man Worth Fighting For by Sara Daniel is Now Available.
An Apple Away by Kate Richards available June 8th
Siren's Serenade by Dominique Eastwick Available July 13th
Unveil My Heart by Nya Rayne Available August 24th
For More Information about the Wiccan Haus or if you are an author interested in learning more about this series please check out the Wiccan Haus Site
Sometimes it takes losing everything to find the one thing you need.
The last of his kind…
Rekkus is the last of the great Black Tiger weres and he is happy to stay that way. Working as security for the Wiccan Haus, a magical spa for inner healing, he has enough danger – and women – to keep him busy. Unfortunately, the Fates are not content with him being comfortable.
Alone and discouraged…
Dana has walked away from all she has known, her fiancé, family, apartment, and job. Now, having a ticket to the Wiccan Haus may be the only way she can move on. But what she finds isn't what she expects, nor is it what she thought she was looking for.
Meet the unusual residents of the Wiccan Haus. The staff can get a little hairy and not all of the guests eat what's served in the dining hall. But the proprietors always do what they can to make the resort into a place of healing and peace, using all of their years of practice. At the Haus, where humans and Paras reside side-by-side, everyone in need of the Rowan siblings' services are welcome.
WELCOME TO THE WICCAN HAUS.
Excerpt
Rekkus paced in the shallow water. He ran his hand through his hair in a show of frustration. Just as her nerves didn't think they could take anymore, he said, "Why are you here?"
"Myron told me to come here."
He stopped pacing glared in the direction of where Myron would be then began to pace again. "Damn her. I spent all day avoiding you and she sends you right to me. You need to leave now."
"Why?"
"It's not safe for you here with me. I left you alone last night; if you stay I am not sure I can honor that request a second time."
"I felt it too," she blurted out, unable to keep it to herself any longer.
He moved so fast she never saw him actually take a step. All of a sudden she was wrapped in his wet arms, her breast pressed against his chest, making her now damp shirt cling to her body. His eyes searched hers. He must have seen what he was looking for, the desire she felt. Before she could form another thought, his lips were on hers in a feverous need. Demanding she open for him, and no part of her thought for a second to deny him anything. Butterflies churned in her stomach making her shake. She had never felt this; this fire that threatened to engulf her.
She wrapped her arms around his neck, running her fingers through his wet hair and deepened the kiss. His moan was all she needed to gather the nerve and strength to push him forward. She knew what he wanted. Knew what he most desired, because she wanted it to. She wanted him, all of him, every naked inch, right here, next to this lake not a ten minute walk from the Haus. Anyone could stumble across them and she didn't care. It almost added to the allure of everything. What she needed it to be.
Something more than she ever knew she needed. He was pushing her past her comfort zone forcing her to accept there was a sexy seductress screaming to be let out.
Okay CONTEST TIME :)
2 Lucky winner will win the book of their choice from my back list. International fine as these are ebooks :)
Tell us what your favorite Para is *thats Paranormal to you humans*
So Leave me a comment
Follow me here